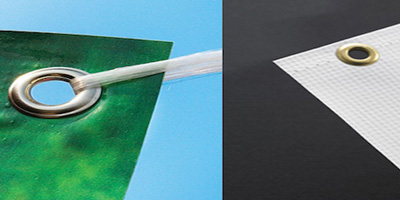 Self-Piercing Brass Grommets for Signage
Stimpson's self-piercing grommets are made from high-quality, heavier grade brass than traditional sheet metal grommets. While brass has many qualities, this alloy is ideal for grommets and washers because it will not rust and is non-magnetic. If your current brass grommets attract a magnet, then they are brass plated steel and will eventually rust. Stimpson's stock finishes for self-piercing grommets and washers include Brass, Nickel Plated, and Black Oxide, commonly known as Dull Black Chemical to fit every application.
Our self-piercing grommets function together with our industry-leading washers. When set with the Stimpson 405 Bench Press, this combination pierces the material and sets the brass grommet and washer in a single action without the extra step of pre-punching a hole. Our "no hole needed" brass self-piercing grommets can withstand harsh environments and are ideal for heavy-duty applications such as outdoor signage and vinyl banners.
Choosing a Grommet Size for Your Sign
If you are utilizing a grommet press for thin applications such as posters, banners, and laminate, then typically standard self-piercing grommets are required.  If your signage uses thicker materials such as foam core or corrugated plastic Coreplast boards, then long neck self-piercing grommets are recommended, ensuring a greater neck length under the flange to accommodate the thicker material.
If your sign specifications and design include both thick and thin materials, both standard and long neck brass self-piercing grommet and washer sets may be required for the best outcome. It is important to remember that the thickness of the material is an important consideration when purchasing grommets and washers for your signage. If you use long neck grommets on thinner materials like banners, the neck would be too long to properly secure the washer fastening the set in place. The end product would have a grommet that spins. For a long-lasting, secure sign, selecting the proper grommet size is mission critical.