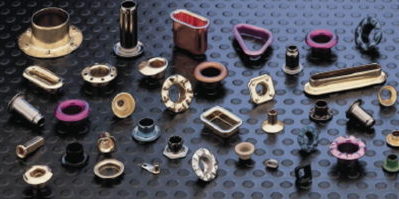 Choosing the Ideal Finish For Your Stimpson Product
Many Stimpson customers choose to add a finish to the parts we supply.  Finishes are often purchased through Stimpson as an additional option on orders, though some customers choose to finish the parts themselves after receiving the goods.
Though the finishes listed below do tend to inhibit corrosion and oxidation in real-world environments, they are considered "decorative".
Because of the small size of our parts and the fact that some finishing processes require a minimum number of pounds of goods be present, minimum quantities may apply.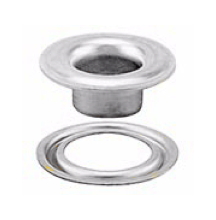 Nickel and Zinc Plating
These two platings are sometimes difficult to distinguish, even when placed side-by-side, because they both offer a bright, shiny, silver appearance that resists tarnishing indoors, outdoors, and wherever moisture is present.  Both are applied via a process called "electro-plating", which creates a permanent bond between the plating and the underlying part.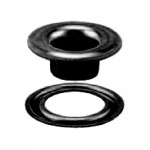 Dull Black Chemical (aka "Dull Black Chem" or "DBC") –
Unlike electro-plating, Dull Black Chem finish is an oxide.  The chemicals used in this process permanently alter the surface of the part, resulting in a non-reflective matte black color.  It is important to note that this particular finish can transfer to materials such as fabric, so it is not recommended for light-colored materials.  Dull Black Chem is primarily used in military applications where it is  important that the parts reflect a minimum amount of light.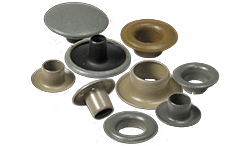 Enameling (Painting)
A layer of any color enamel can be applied to match the customer's application, including clear enamel to offer an added layer of protection to the part's finish.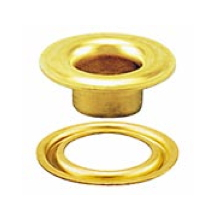 Brass Plating –
Typically used on steel parts to provide a brass appearance, brass plating may offer a cost savings over solid brass parts, but is unlikely to resist corrosion as well in the long term and/or in harsh environments.
Electro-tin Plating –
"E-Tin" plating is generally only applied when the customer's application requires that the part be solderable.  This bright acid tin finish is silver in color.
Rust Inhibitor –
All plain steel parts offered by Stimpson have an colorless, oil-based rust inhibitor applied immediately after manufacture to resist rusting while in stock and during shipment.  Customers who wish to plate these parts themselves must have the rust inhibitor removed prior to any plating process.
Paraffin –
An invisible light wax dip, paraffin can be applied to plain or plated parts to act as a lubricant, preventing the parts from sticking to the tools during the setting process.
Spec Plating –
Some government specifications call for platings of an exact thickness (e.g. .0002").  In many cases, these requirements can be accommodated and certificates of conformance furnished.