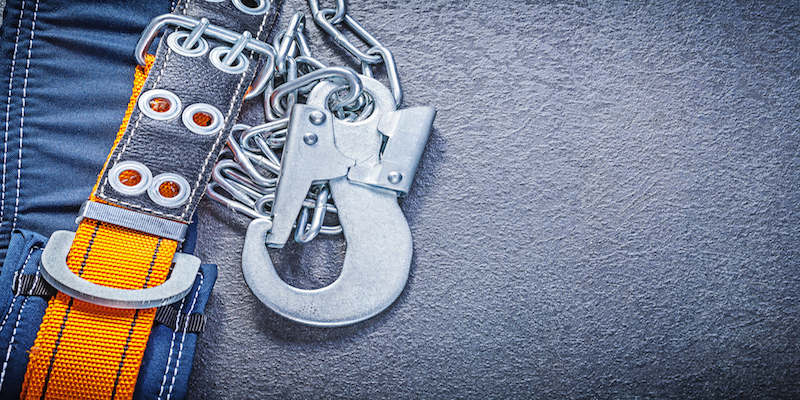 Safety & Fall Protection Parts and Components By Stimpson
Stimpson is the leading manufacturer and supplier of fall protection and safety components. Ranging from rolled rim grommets and spur washers for safety harnesses to body belts and other rigging equipment to eyelets for safety shoes and work boots, and even electrical knock-out plugs to ensure electrical wires and equipment are not exposed, Stimpson has it all. Read the content below to help you select Stimpson, the most trusted manufacturer and supplier for PPE (Personal Protective Equipment) components and parts.
Rolled Rim Grommets & Spur Washers for Safety Harnesses
Safety and fall protection harnesses and belts come in many styles and types. Safety harness manufacturers trust Stimpson rolled rim grommets with spur washers because they are intentionally designed to interlock and work together for an unyielding setting. The rolled rim grommet and spur washer provide a robust, stable, and secure fastening option for safety harnesses, belts, and rigging equipment. The teeth of the spur washer grasp the material for a secure setting while the rolled rim grommet interlocks with the spur washer for additional security and a polished look.
Since safety harnesses experience movement and pressure when being used, this fastening solution is ideal for rugged applications. Because the spur washer has more teeth, it ensures a secure fastening solution in the harshest of applications and environments like those experienced when wearing a safety harness.
Workplace Footwear 
Stimpson understands how vital the smallest detail – such as an eyelet for specialized workplace boots, shoes, and footwear safety accessories– is for PPE. Depending on what the job duties are, workplace environments are increasing the need for protective and secure work safety shoes and accessories, like Metatarsal guards, to protect the top of the foot from injuries.
Workplace footwear comes in a variety of materials depending on the work environment. From steel-toe leather boots to slip-resistant loafers or aluminum-toed nylon mesh–leather athletic work shoes, eyelets reinforce the lace hole to prevent fraying while simultaneously ensuring a secure fit. Stimpson eyelets are manufactured to industry and military standards and are available in different sizes and in popular finishes such as nickel, brass, antique bronze and other mil-spec colors to match or enhance your workplace footwear design.
Depending on the type of work shoe, Metatarsal guards may be built into the boot or shoe or are available separately for additional foot safety. Each design relies on eyelets to prevent lace fraying and ensure a secure fit.
Electrical Knock-Out Plugs, Hole Plugs and More
Stimpson carries four distinct types of hole plugs: electrical knock-out plugs, standard hole plugs, round tubing hole plugs, and custom hole plugs to meet all of your safety and final application needs.
Electrical knock-out plugs not only create a finished appearance; they ensure the electrical panel is safe by covering exposed wires, circuits, switches, and unused holes. Since the knock-out plug covers electrical panel openings, it prevents sparks from causing a fire from a short-circuit and also protects individuals from accidentally shocking themselves and causing damage to the wires, circuitry or both.  Stimpson electrical knock-out plugs come in industry standard sizing, not exact hole sizes. When inserted into the correct industry size hole, the prongs of the electrical knock-out plug grip and snap into place for a secure fit.
Both standard and electrical hole plugs are often utilized to cover exposed knock-out holes in steel boxes, specialized metal enclosures, and sensitive electronic component enclosures. Round tubing hole plugs work differently than standard hole plugs. This type of plug is designed to fit and cover the end of a tube to protect the components inside the tube, prevent any unwanted debris from entering, enhance the overall look, and of course, to ensure the tube is safe and the end is covered.
Stimpson's standard hole plugs, electrical knock-out plugs, round tubing hole plugs, and custom hole plugs come in different materials such as brass, steel, and carbon steel and can also be fitted with nickel, zinc, or other finishes to prevent corrosion or enhance appearance – depending on the application.
There are two types of holes: intentional or accidental. Regardless of the type of hole, it needs to be covered as soon as possible, not only for safety but also to achieve its function.
Preventing workplace injuries is easier than you think by working with an experienced safety and fall protection component manufacturer and partner.  Contact Stimpson to learn more about our safety, fall protection, and PPE components and parts.