Stimpson offers a number of different grommet and washer types, each with its own specific functionality. Choosing the right one is important to the success of your application. In this blog post, we're going to discuss all the grommet and washer varieties we offer and explain their ideal uses.
All these grommet and washer types can be found at Stimpson's official web store.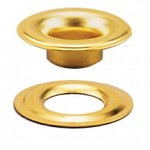 Sheet Metal Grommets and Plain Washers – These can be used in all types of materials, when a hole has been pre-punched in the material, or when they are used in conjunction with equipment designed to cut a hole and set the grommet.  These grommets and washers are our most economical option, though not suitable for every application.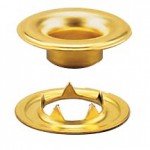 Sheet Metal Grommets and Teeth Washers – By grasping fabric, the teeth on our teeth washers provide a firmer, tighter grasp, particularly in woven materials. The teeth also prevent the grommet from spinning in the application after it is set.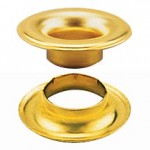 Sheet Metal Grommets and Neck Washers Using a telescoping, barrel-to-barrel setting, plain grommets with neck washers reinforce a hole with two entire parts. Neck washers are commonly used in place of plain washers in grommet machines that feed and set both the grommet and the washer, as the washer's neck allows it to be guided down a track (aka "the roadway") of the setting machine.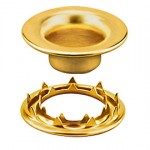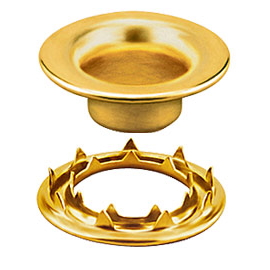 Rolled Rim Grommets and Spur Washers – These offer the greatest strength of setting.  When set, the spurs on the washer pass through the material and get lodged inside the rim of the grommet, creating a very strong grip.  The spurs also keep the grommet from turning in the material.  Of the five grommet options mentioned here, rolled rim grommets and spur washers are made from the thickest metal.  They are most often used when the application must withstand heavy use, like outdoor tarps and flags.  Generally, fabric will fail long before the grommet, but since these grommets offer such a strong setting, they are desired for applications where there will be stress at the point where the grommet is inserted into the material.
Because the rolled edges of these grommets offer an attractive, finished look, they are also sometimes used strictly for appearance, especially in high-end flags.
*Note that spur washers sizes #4 and smaller have one row of spurs instead of the double rows pictured here.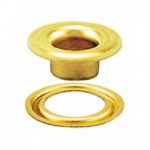 Self-Piercing Grommets and Washers – These products will pierce and set in a single action without the need for a pre-punched hole.  They can cut holes in most fabric by pinching the material between the barrel of the grommet and the flat edge of the washer.  Once set, they appear and function almost identically to plain grommets and washers.
Certain fabrics, like thick webbing, can be difficult to cut and may either damage the grommet and/or not allow material perforation.  In these cases, we suggest using plain grommets and washers with a special tool to cut the material.
For vinyl, normal fabrics, and most paper product applications, self-piercing grommets and washers are often the best solution as they offer an easy, one-step setting without requiring the added labor of creating a pre-punched hole.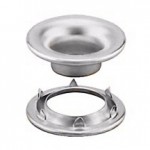 Marine-Grade Stainless Steel Rolled Rim Grommets and Spur Washers – For applications that require corrosion-resistance and the ruggedness of a spur washer setting at an economical price, this line of grommets and washers is a great option.
These grommets are ideal for boats, awnings, or tarps;  any place that is exposed to the elements.
E-Series Grommets and Washers – The E-Series grommets and washers closely resemble their standard counterparts, but are made from a slightly lighter gauge material. This line is ideal for cost-conscious customers who also demand the Stimpson quality they've come to know and trust.
The Stimpson web store offers E-Series grommets and washers in various sizes and styles and more are on the way.