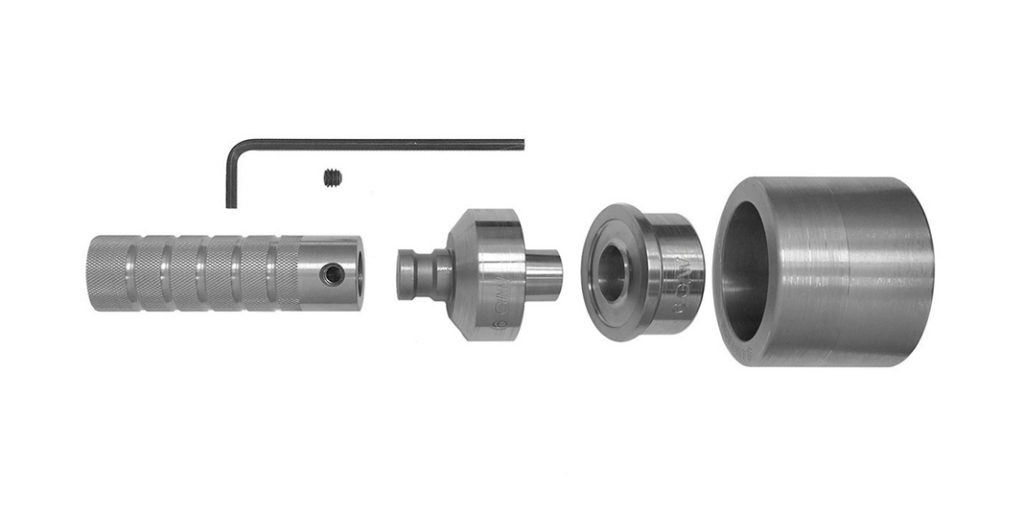 New Modular Hand Drive Grommet Tooling from Stimpson
To meet the current demands of industry professionals, Stimpson expanded its modular hand drive grommet tooling offerings. The new modular hand drive additions to Stimpson's already robust line includes #6, #7, #8 and #10 for rolled rim grommets & spur washers and #6 for sheet metal grommets & plain washers. Due to the modular nature of Stimpson's hand drives, the top and bottom tooling are easily removable, enabling operators to use the same handle and bolster within this new product group. The modular hand drive grommet tooling set includes everything needed to begin setting grommets & washers immediately either on-the-go or on the busiest of production lines. The basic kit consists of a handle with a machine-tooled herringbone-patterned grip for additional traction, high-quality top & bottom insert tools, a bolster, and a hex key to swap out the top tool.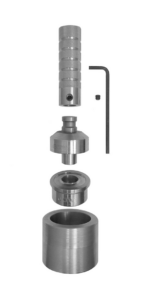 Specifications:
Modular Design: This unique design feature enables operators to quickly swap out the top and bottom tooling while using the same bolster and handle to set different rolled rim grommet & washer sizes, including #6, #7, #8, #10 and #6 sheet metal grommets with plain washers.
Handle: Made from durable cold-rolled steel, the handle features a machine-tooled herringbone-patterned grip for additional traction.
Top & Bottom Insert Tooling:  The basic set contains both the top & bottom insert tooling designed for your specific Stimpson grommet & washer size and type to consistently yield smooth and secure settings.
Hex key: Loosen the set screw using the included hex-key to quickly and easily swap out the top tooling.
Industry Versatility: Operators from a variety of industries, including Signs & Banners, Tags & Labels, Marine, Aerospace & Defense, Safety & Fall Protection, and Tarps & Tents, rely on Stimpson's modular hand drive grommet tooling for reliable setting quality, versatility, and portability.
In addition to the new modular hand drives, Stimpson's machinery line includes the iconic Stimpson 405 Bench Press as well as semi & fully automatic grommet and eyelet attaching machinery. The relationship between grommets & washers and attaching machinery tooling is an important one since machine tooling is not necessarily transferable from brand to brand. It is imperative that when setting Stimpson grommets & washers, operators use Stimpson's hand drives with the corresponding top & bottom tooling or other Stimpson grommet presses with the appropriate Stimpson tooling.
Stimpson's new modular hand drives are available as a basic set or as individual components, enabling operators to expand production as needed while using the same handle and bolster. To learn more or to purchase one of the new modular hand drives, visit webstore.Stimpson.com, with any order placed before 3:00 PM ET ships the same day, or contact one of the fastening specialists at Stimpson available Monday through Friday 8:00 to 4:30 ET for additional information. Discover why customers large and small rely on Stimpson for quality products and trusted solutions.[/vc_column_text][/vc_column][/vc_row]