Grommet Installation Methods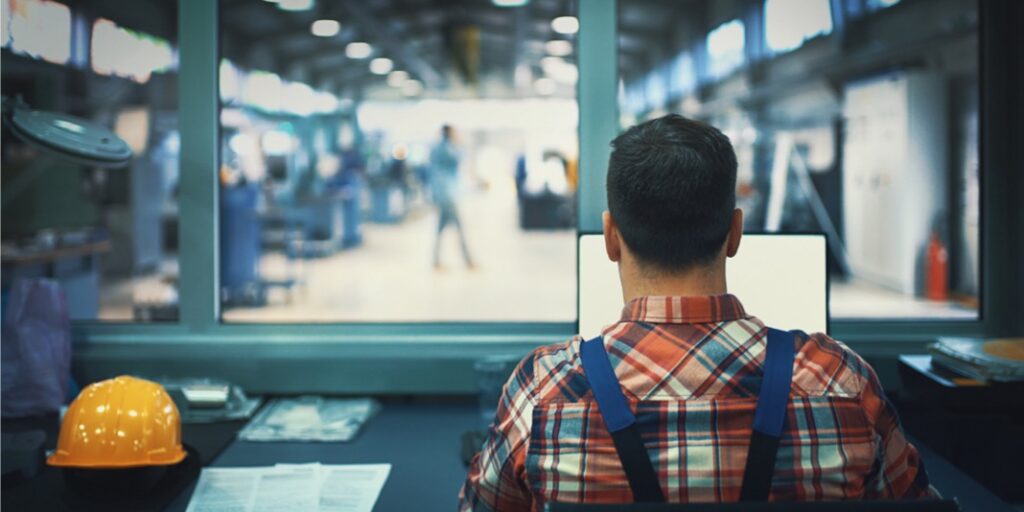 There are two methods of grommet and washer installation – manual and automatic. Stimpson carries a variety of precision grommet setting machines for signs and banners, apparel, tents, awnings, arts and crafts, and prototyping including hand drives, the 405 Bench Press, and fully automatic industrial setting machinery.
Hand Drives
Stimpson's complete hand drive set includes everything needed to securely install grommets and washers in a variety of light to medium weight materials. The complete modular hand drive set includes the following to begin manual grommet installation immediately: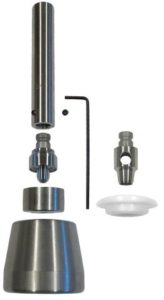 The modular design of Stimpson's grommet hand drive set allows users to change the top and bottom setting tools to set other size grommets and washers using the same bolster and handle. This hand drive is as functional as it is economical.

405 Bench Press
Stimpson's 405 Bench Press is a popular and versatile grommet setting tool, enabling companies to increase production as demand increases. Depending on the configuration and to meet the demands of a busy production line, the manual 405 Press features the following: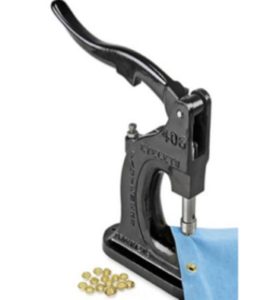 Heavy-duty a frame
Strategic screw holes so the press can be mounted on a bench workstation
Mounting plate (sold separately) enables the 405 press to stand alone
Quickly interchange tooling to set different types of grommets and washers
Ability to set snap sets and eyelets by swapping out tooling
Height: 12"
Weight: 10 lbs
Technical Note: Stimpson's 405 Bench Press is compatible with self-piercing grommets, brass rolled rim grommets up to size #4 in brass or size #3 in stainless steel
For over 100 years, companies large and small continue to trust Stimpson's 405 Bench Press due to its durability, versatility and setting quality.
Automatic Attaching Machinery
Stimpson carries an extensive line of fully automatic industrial attaching machinery to meet the demands of the busiest production schedules. Automatic industrial grommet machines enable production managers to instantly increase production capacity and streamline processes. Depending on the type of automatic press the features include: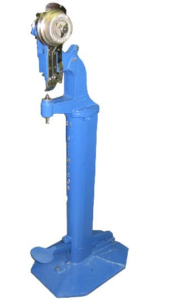 Laser target light to ensure accurate hole punching
Foot pedal operation to trigger on-demand grommet and washer installation
Pedestal or bench mount
Punch a hole in the material, feed and attach both the grommet and washer in a single cycle
Dual feed available
Automatic machines available for light, medium and heavy-duty fabric applications
Technical Notes: The above features are available on select models only
Legacy Attaching Machinery: Stimpson has manufactured many popular attaching machines over the years that are known for their durability, reliability, and setting quality. To learn more about our legacy machinery, click here.
Contact Stimpson: Speak with an attaching machinery expert at 877-765-0748 
Fully automatic attaching machinery is an investment in your company, your employees and your customers.
Depending on the industry, the type of fabric and your production schedule there is industrial attaching machinery to meet your needs. At Stimpson, we understand that each setting is unique and carry a variety of attaching solutions to set your grommets and washers with confidence. Visit our webstore to learn more about our the Stimpson 405 Bench Press or contact Stimpson to speak with an automatic attaching machinery specialist.