Stimpson's 405 Grommet Press, The Professional's Choice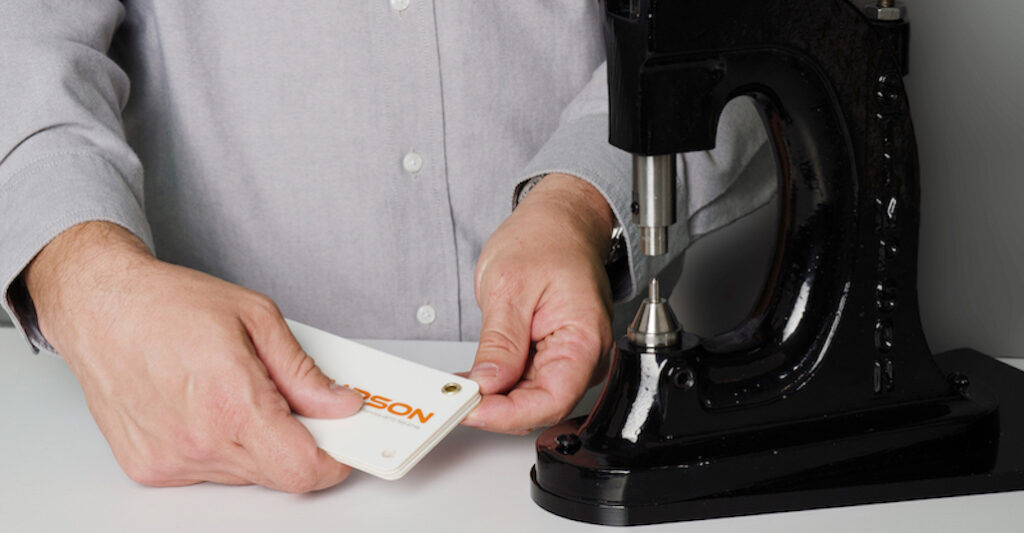 The iconic Stimpson 405 bench press continues to be a staple on the busiest of production lines because of its legendary setting quality and ease of use. Proudly made in the USA since its first iteration over 100 years ago, this versatile grommet press features a lightweight but heavy-duty aluminum frame and is capable of setting a variety grommets & washers including self-piercing grommets, eyelets and snap sets. While its operation is manual, the quality of work it produces equals that of large automatic machines.
Weighing in at only 10 pounds, with a height of 12″, and a stroke of 1 3/4″, the 405 bench press, is easily transferable from work station to station to meet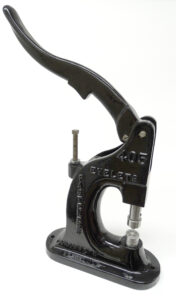 changing production needs. It is easily mounted on a bench using existing screw holes, or it can stand alone when mounted on the Stimpson base plate. Engineered for maximum productivity and to reduce operator fatigue, the 405 grommet press head lever is longer than most and therefore generates additional leverage allowing it to set grommets & washers through the thickest of material. Another advantage of the lever position is that the operator has an increased field of view and accessibility to both the grommet & washer and the material they are set in.  Operators can precisely dial in the appropriate amount of pressure to set the complete grommet & washer assembly using the built-in stroke adjusting screw for the perfect setting every time.
Stimpson 405 Bench Press Specifications
– Frame Material: Heavy-Duty Aluminum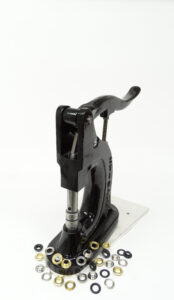 – Height: 12"
– Weight: 10 lbs.
– Throat Depth: 2 3/4″
– Stroke: 1 3/4″
– Bench Space: 5 x 9"
– Industries: Industrial Fabrics, Commercial Printing & Signage, Marine, and more
Stimpson's 405 grommet press is known industry-wide for its reliability and durability. It is available as a stand-alone grommet press or as part of a kit that includes self-piercing grommets & washers. The 405 #2 self-piercing grommet & washer starter kit includes the following:
– Stimpson 405 Bench Press
– 405/479 Machine Tools to set #2 Self-Piercing Grommets & Washers
– Base Plate for Stimpson 405 Bench Press
– Variety Pack Contents: 300 Brass grommets & washer sets, 100 Brass with nickel plating, 50 brass with a dull black finish and 50 Stainless Steel
The Importance of Selecting the Appropriate Grommet Machine
At Stimpson, we understand the relationship between grommets & washers, the grommet press and the finished product is an important one. Setting grommets & washers with the 405 bench press improves the functionality of the finished product because the chance for collapsed barrels or split coils is dramatically reduced due to the head lever, stroke adjusting screw, and Stimpson high-quality dies working in tandem to achieve a complete setting.  When setting Stimpson grommets & washers, we recommend that you use our grommet presses and dies since tooling is not transferable from brand to brand.
To learn more about Stimpson's grommet press options, visit our webstore or contact one of our grommet press experts to learn more. Stimpson's experienced team of machine and tooling professionals have the experience and resources to solve complex setting challenges.
With a near-zero defect rate and industry-leading on-time delivery, customers large and small rely on Stimpson's official webstore since any order placed before 3 PM EST is guaranteed to ship the same day. Discover the Stimpson difference.